My Meeting With Gerry
I've mentioned this to a few of you in passing, but I'm putting this up on the website for the benefit of those with whom I have not talked as yet. On October 31 of 1997, I got to see Gerry & the Pacemakers at Toronto's HMCS York. Gerry was performing with Terry Sylvester (of The Hollies) as part of his Ontario 1997 Tour.
---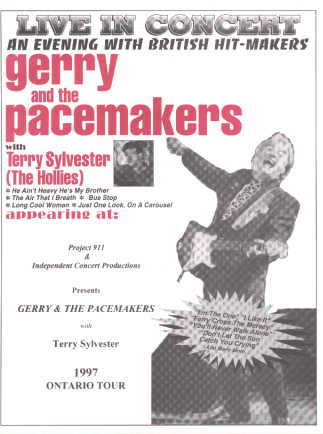 Prior to the concert, I had managed to get in contact with both the promoter of this concert and Gerry's current bass player Andy Cairns. From talking to the former I got recruited to work the spotlight for the night, which meant I didn't have to pay the $35 for the tickets, and I got some free food!
The show was promoted as a dance, and there was a dance floor set up in front of the stage about sixty feet deep with seating at tables. The crowd started to arrive at 7:00, and was absolutely dead. The DJ was doing everything to get them moving, but couldn't! (It was obvious what they wanted to hear!) About 200-250 people showed up in all.
Terry Sylvester came on about 10:00 and did quite a nice acoustic set. He was dressed in a brown waistcoat, and was playing an Ovation acoustic guitar. I don't know the names of most of the songs he did, but "Too Young To Be Married" was one of them. He remarked about the song something to the effect that, "This is a song about me. I got married, but I'm divorced now.....that's really why I'm here on tour tonight." The set lasted 45 minutes, and was quite good as a warm up act.
Gerry and company took to the stage at 11:00, starting with "How Do You Do It". Right after the song finished, Gerry looked out at the audience, sixty feet away across the dance floor and said "What the bloody hell is this? Is anybody here? Come on, everybody move your tables forward a bit. Could we have some lights on in the hall?" And so there was about a five minute gap between the first two songs as everybody moved their tables closer to the stage, and someone figured out the circuit breakers to turn on the hall lights! I'd never seen anything like this before, but I think the promoter's going to have to scrap the dance floor idea at the future shows!
Gerry did a full hour set, going through about every song you could imagine. "I'm The One", "It's Gonna Be Alright", "Don't Let The Sun Catch You Crying'", "You'll Never Walk Alone", and of course "Ferry Cross The Mersey" made it on the setlist. He also threw in some other songs like "I Saw Her Standing There", the only one where the keyboardist took the vocals. Gerry looked to be having a great time up there, and had a great interaction with the audience going.
For those of you interested in the technical aspects of the show, Gerry is using a Fender Stratocaster, it looks like a Deluxe Strat Plus (with the Lace Sensor pickups). He's running that through a silverface Fender Twin Reverb amp which is miked and put through the PA. The bassist, Andy Cairns, was using a headed Status bass, and going through a Yamaha combo amp (looked to be in the 200-400 watt range.) The keyboardist, Tony Young, used two Korg M1 keyboards, and the drummer, Colin Garth, was using Ludwigs.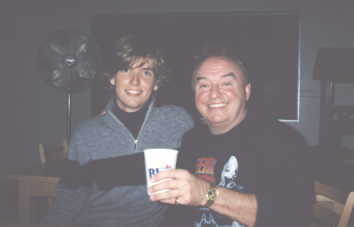 After Gerry's set was finished, I managed to talk to Andy Cairns in person, and he introduced me to Gerry. We were talking for about five to ten minutes, and he is just as nice in person as he has always appeared in interviews. I passed along a few greetings some of you had sent to me, and he signed my CD copy of "Ferry Cross the Mersey." I also got a few pictures of myself with him, one of which you'll see to your left. (Sorry it's so dark...) I asked Gerry about the status of the other three original Pacemakers, and he said that they are all alive and well, and settled down with their families in England.
This concert was really great to get to see, and it was especially wonderful to finally meet Gerry. Andy Cairns commented in a later e-mail that this was probably the worst concert of the tour, being in a poor venue with abysmal acoustics. That may well be, but I still enjoyed the show. I'd encourage any of you to get tickets to see him if he comes by your town. He's still a great performer, and a great showman....even on a bad night!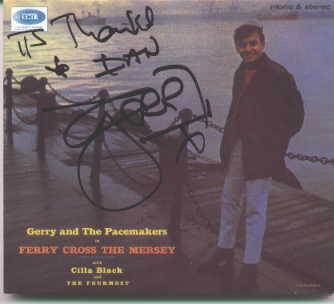 ---
This page maintained by Ian Speers
Last updated: January 17, 1999.
Back to the index.