Gerry and the Pacemakers
American Discography
This page lists all the known American recordings of Gerry and the Pacemakers in their original US release, as well as "Greatest Hits" LP re-releases.
As with the Beatles, Capitol, EMI's American subsidiary, turned down Gerry and the Pacemakers' 1963 singles, forcing Brian Epstein to look for second tier labels to market his bands in America. While Vee Jay, and later Swan records picked up the slack for the Beatles' releases, a New York-based company which had previously released Dion and the Belmonts, the Chiffons, and practically no one else of any consequence. Until the Beatles' breakthrough in the early months of 1964, Gerry's singles were utter flops in Amreica, despite topping the charts in Britain. Unlike the Beatles, EMI never picked up any of Gerry and the Pacemakers' recordings once they'd made it into the American charts, thus all of Gerry's US releases are on Laurie with the sole exception of the Ferry Cross the Mersey movie soundtrack, released by United Artists.
Information on 1960s releases on non-phonographic media would be appreciated. Specifically, if anyone has information on reel-to-reel tape or four-track/eight-track cartridge releases, I'd be most eager to learn about them.
Contributors:
Frank A. Lowry, Koji Mikuma, Jean-Louis Beaudoin, Alan Lowell, Amy Michaels, Matt
All songs written by Gerry Marsden unless otherwise indicated.
Albums
Albums
Don't Let The Sun Catch You Crying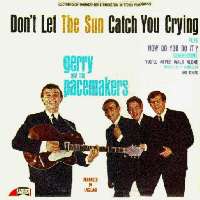 USA
Laurie (S)LLP 2024 (mono and stereo)
Release Date: July 1964
Side One
Don't let the Sun Catch you Crying [2:35]
I'm the One [2:16]
Away from You [2:09] (Marden,Chadwick)
Jambalya [2:35] (Williams)
Maybelline [2:03] (Berry,Fratlo,Freed)
You'll Never Walk Alone [2:38] (Rodgers & Hammerstein)
Side Two
How Do You Do It [1:55] (Mitch Murray)
You're the Reason [2:16] (Edwards, Henley, Imes, Fell)
Don"t You Ever [1:47]
Summertime [2:28] (D. Heywood G. Gershwin)
Slow Down [2:26] (Williams)
Show Me That You C